76″ Inch High Weapon Racks have a great niche in arms rooms where ceilings are impacted or there are overhead obstructions requiring clearance.
Not all arms rooms are the same dimensions, which means one size fit all weapon racks should not apply to your space. Having different height and width weapon rack options allows our system designers to layout weapon racks in a manner that best optimizes your space and will meet fire and building codes.
Fire code requires 18″ of clearance from the bottom of sprinklers to the top of storage. This means that taller full height weapon racks, 84/85″ H will not always work in arms rooms with shorter ceilings.
When placing weapon racks on mobile carriages you are adding 7″ of overall height to the racks with carriages and track, even further impacting height clearances.
This again places the 76 inch high weapon rack into a sweet spot as these weapon racks fixed on the floor provide clearance under 8′ H ceilings and on carriages under 8′-6″ H ceilings.
We have consistently seen competitive weapon racks sold into armories at 84″ H that violate the 18″ fire code. These units are being written up by the base fire inspector and having to replace those weapon racks with shorter, mid-tier weapon racks like our 76 Inch High Weapon Racks.
With an assortment of available National Stock Numbers for 76″ H Weapon Racks, this makes acquisition much easier going through the supply system to acquire new weapon racks for your arms room that will meet the law.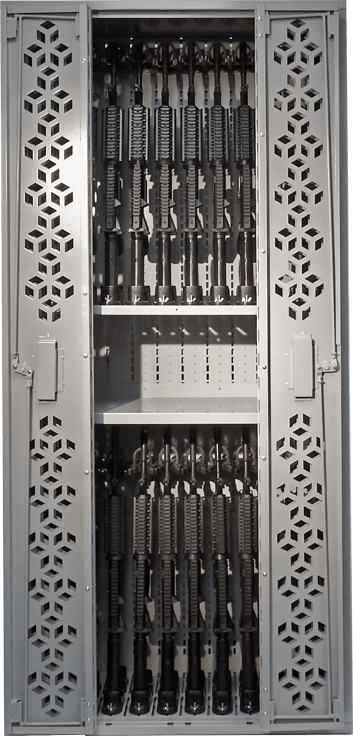 76" Weapon Rack Capacities
Rack Widths: 36″ & 42″
36″ W: 24 assorted rifles including one tier of full length M16 &/or Shotguns and one tier of M4, AK47, MK18, MP5s or 24 total M4s, AK47s, MK18s, MP5s
36″ W: 6 light machine guns including M249 SAWs, M27 IAR, MK17 & 12 M4s
36″ W: 4 heavy machine guns, M2 with 8 spare barrels, MK19s, Carl Gustavs, M252 mortars
36″ W: 6 M240 + Shelving
36″ W: 250-300 pistols on pistol pegs
42″ W: 28 assorted rifles including one tier of full length M16 &/or Shotguns and one tier of M4, AK47, MK18, MP5s 28 total M4s, AK47s, MK18s, MP5s or 28 total M4s, AK47s, MK18s, MP5s
42″ W: 7 light machine guns including M249 SAWs, M27 IAR, MK17 & 14 M4s
42″ W: 4 heavy machine guns, M2 with 8 spare barrels, MK19s, Carl Gustavs, M252 mortars
42″ W:  7 M240 + Shelving
42″ W: 250-300 pistols on pistol pegs
List of 76″ H NSN Weapon Racks
NSN: CWR5 – 1095-01-612-1525
NSN: CWR6 – 1095-01-612-1531


NSN: CWR26 – 1095-01-620-4535
NSN: CWR27 – 1095-01-620-4439


NSN: CWR28 – 1095-01-620-4566
NSN: CWR29 – 1095-01-620-5607


NSN: CWR30 – 1095-01-620-5611

NSN: CWR31 – 1095-01-620-5265

NSN: CWR32 – 1095-01-620-5586
NSN: CWR33 – 1095-01-620-5319


NSN: CWR34 – 1095-01-620-5538
NSN: CWR35 – 1095-01-620-5605


NSN: CWR38 – 1095-01-620-5251
NSN: CWR39 – 1095-01-620-5260