Lateral Mobile Weapon Storage System
Ask about how to utilize DLA TLS (Tailored Logistics Support) contract
Lateral Mobile Weapon Storage System include fixed weapon racks installed on a stationary platform with one or two rows of individual weapon racks on carriages that slide from side to side with in-floor anti-tip track in front of the stationary platform.
This unique configuration allows for narrow depth rooms lacking the depth for a traditional Mobile Weapon Rack System, which require space to enter aisles whereas a Lateral Mobile Weapon Storage system only requires space in front of the system for access and not aisles in between rows of weapon racks.
Combat Weapon Racks reverse bi-fold doors allow for the doors to be folded in half flush to the front of each weapon rack with the carriages sliding side to side.
When traditional high density mobile carriages for weapon racks are not available, lateral mobile storage weapon racks work great to save space and provide more storage in arms rooms.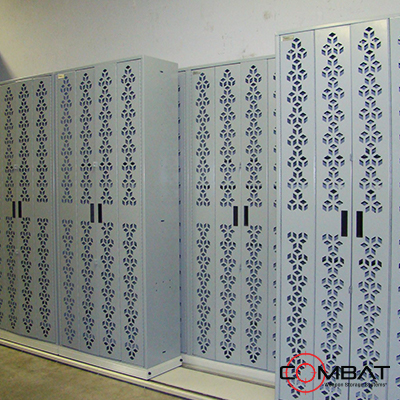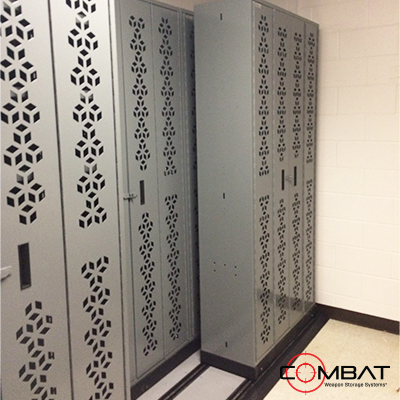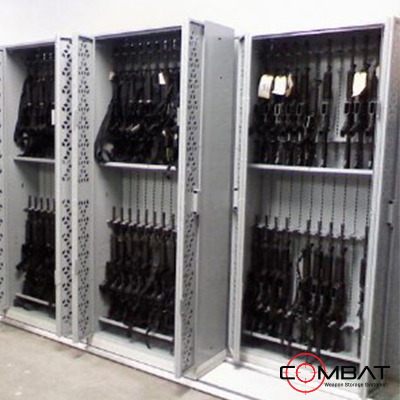 Lateral Mobile Weapon Storage System –
 Features
Requires smaller footprint than traditional mobile carriage system
One access aisle required for system access
System utilizes the length of the space when depth is limited
Weapon Racks are mounted to individual carriages
Anti-Tip Track and carriages protects end users
Reverse Bi-Fold Weapon Rack doors take minimal space when doors are open
Tracks are fully anchored and grouted
Available with different weapon rack heights