Military Radio Charging Cabinet
The Combat Military Radio Charging Cabinet provides fast charging, secure storage and cord management for Motorola radios and radio charging stations. The ability to store radios and radio charging stations inside of a secure and powered storage cabinet provides a solution for units struggling to provide power outlets and shelf space to store radios.
Securely housing and storing military and police radios, this unique storage cabinet promotes comprehensive device protection, accessibility, and retention.
A front, locking metal door with a large viewing window permits a quick visual inventory of stored radios. Optional thermodynamic fans integrated into the cabinet top protect against overheating. The specially coated roll-out shelving prevents scratches and scuffs and self-closings for fast deployment of radios.
The military radio charging cabinet encourages clutter reducing organization of devices and cabling. Charging cords are stored out of sight providing a safe environment, and a removable back panel permits quick service access.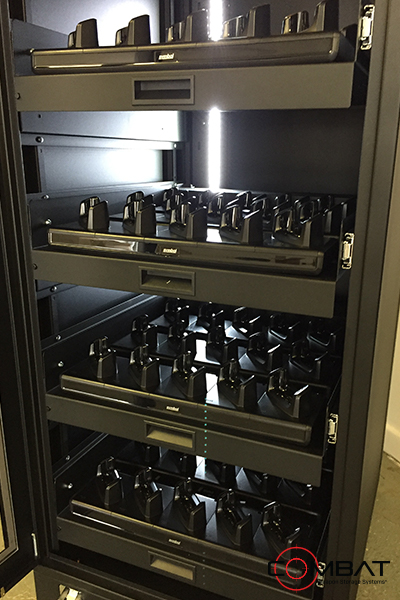 Large swivel casters with non-marking wheels allow for this cabinet to be mobile or relocatable even with uneven surfaces and locks to help prevent unwanted movement when stationary.
The Military Radio Charging Cabinet ships ready for quick installation and storage of your radios which securely mount to the retractable shelving.
Shelves can be configured to store multiple types and styles of chargeable devices including laptops, PDA handheld devices in addition to radios.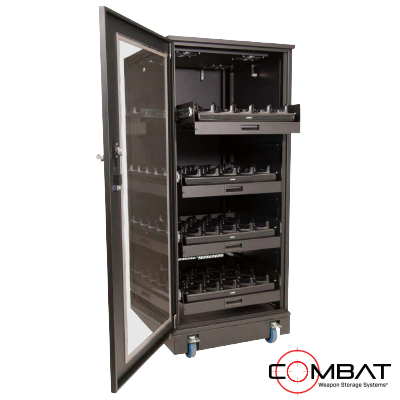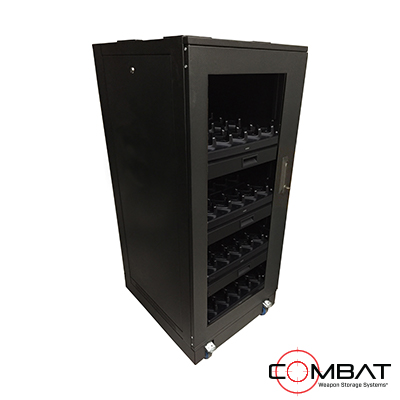 Four (4) top-mounted thermodynamic fans to dissipate heat (optional)
Fully customizable to suit a range of devices and charging cradles
Compatible with Zebra TC56 and TC55 handheld computers as well as most asset-tracking handhelds in addition to radios
Protects devices in rugged steel rack with locking doors and service panels
Drawers allow direct mounting of charging cradles for secure transport
Energy-efficient LED light strip provides enhanced interior viewing
Options to store other hardware such as laptops and tablets