The NSN Rifle Handgun Deployable Weapon Cabinet stores one tier of 12 rifles vertically with a pistol peg strip to store 12 pistols. Each rack features a fully slotted back panel allowing for adjustment of barrel saddles on 1″ vertical increments for optimal placement.
CWR7 includes:
1 mobile base with 4 casters
1 slotted adjustable base shelf
12 pairs of Combat Weapon Holders
12 Combat Barrel Saddles with retainer cords
1 / 12-capacity pistol peg strips
Rugged Handles to help transport the Weapon Rack
These components will allow for the storage of 12 rifles and 12 pistols or 6 M249 SAWs with spare barrel bags.
Rack Capacity: 12 assorted rifles & 12 pistols on pistol pegs (6 M249s with hooks for spare barrels)
Pistol pegs store pistols between barrels of rifles
Weapon Rack is mounted to heavy duty mobile base with 7″ casters
Casters including 2 casters with brakes
Caster capacity 1,200 lbs per caster
Rack components include 12 individual adjustable barrel saddles with retainer cords, 12 pairs of weapon holders. 1 12 capacity pistol peg strip & carry handles attached to side of rack
8 internal lock rods
Reverse Bi-Fold Doors (doors do not obstruct aisles)
TACOM certified, Rack meets & exceeds AR 190-11, OPNAVINST 5530.13C, DOD 5100.76-M & MCO 5530.14A
NSN: 1095-01-612-1533

PN: CWR7
52″ H x 36″ W x 15″ D
9 point locking system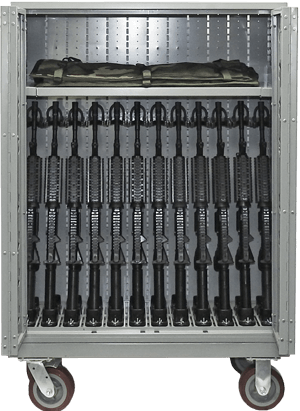 NSN Deployable Weapon Cabinet – Configurations
CWR7 Weapon Rack 1095-01-612-1533
CWR7 is our NSN Rifle Handgun Deployable Weapon Cabinet featuring a 12-12 rifle-pistol capacity. Because the pistols are stored on pistol pegs between the barrels of the rifles and not in plastic bins M16s can be stored with M9s.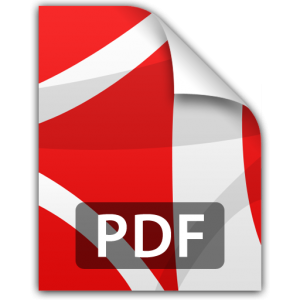 For more information: Combat Weapon Storage – NSN Weapon Rack – CWR7