Replacing Competitors Weapon Racks
Space Saver Universal Weapon Racks are legacy weapon racks that are actively being replaced throughout military arms rooms by more modern, modular weapon storage systems.
This system from an Air Force Security Forces Squadron had performance issues including an out of level track that left the anti-tip bracket dragging across the floor, stored weapons colliding due to multi capacity barrel saddles and the stackable weapon racks were too tall for shorter armorers to reach weapons on the stacked weapon rack.
The retractable door universal weapon racks no longer met the unit's storage capacity mission requirement's. Armorers were forced two manage two sets of doors for each vertical column due to stackable weapon racks instead of full height weapon racks.
Fully retractable weapon rack doors do not save space as the name indicates, they in fact take up more floor space and store less weapons per cabinet due to loss of internal cabinet storage space with receding cabinet doors.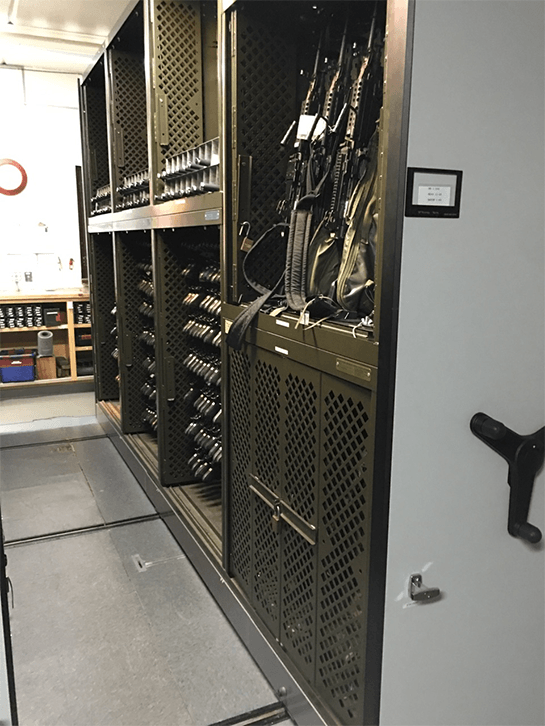 Not only do the legacy retractable door universal weapon racks take up more floor space and store less weapons, they do not come standard with fully slotted back panels. Utilizing a punched shelving backstop called a support rail, armorers only receive two slots on the support rail to adjust components. If armorers needed to store two varying height weapons side by side, they would be forced to purchase an additional support rail.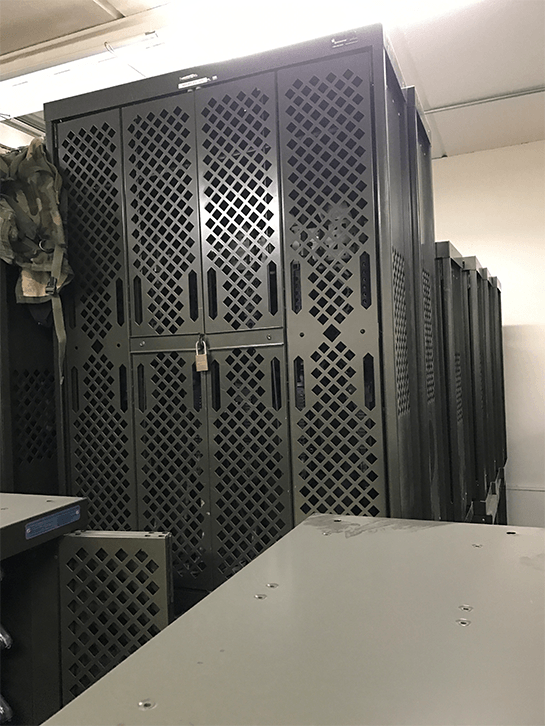 Universal Weapon Racks were replaced with full height Combat Weapon Racks.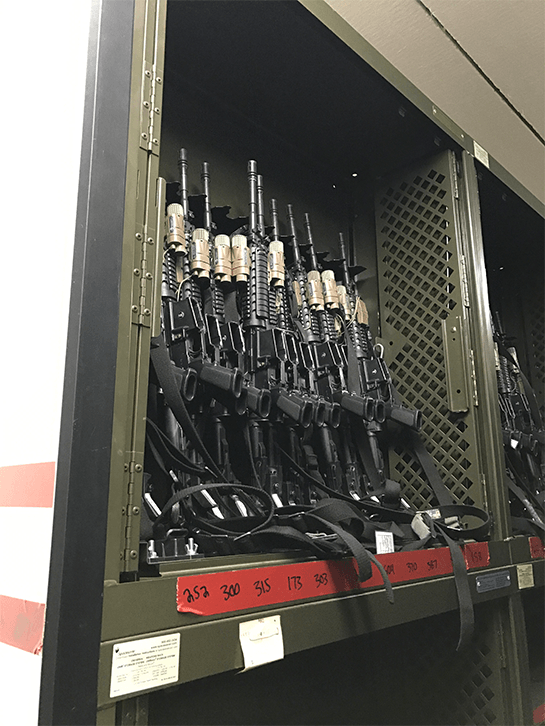 Attached optics collide with adjacent weapons as shared barrel components force spacing too tight for rifles with optics attached.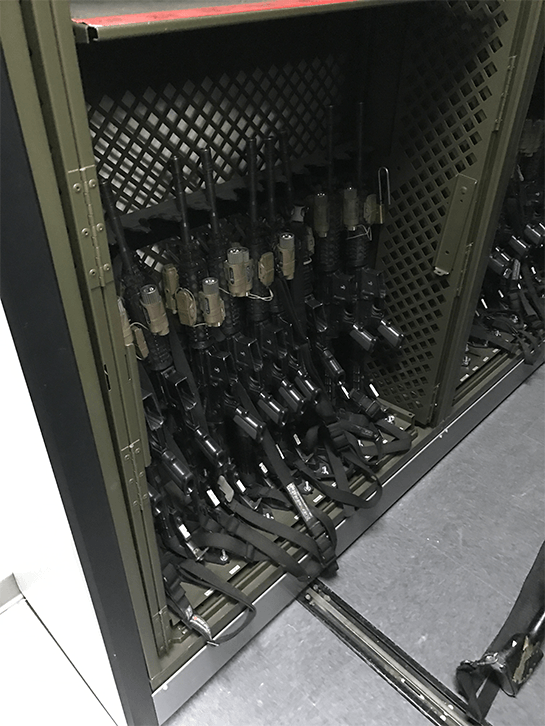 Weapon spacing between rifles is too tight with the multi capacity shared barrel saddle. Weapon slings spill out of the cabinet and get caught in the high density mobile carriage system.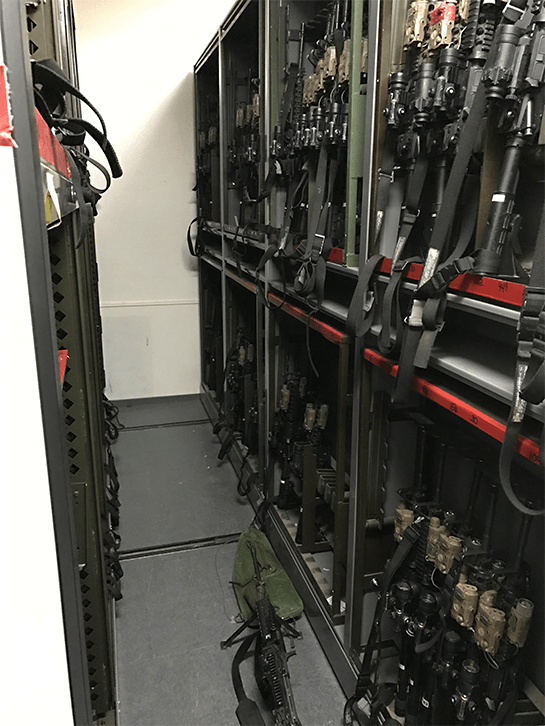 M12 Small Arms Racks are used in the high density system as the Space Saver weapon racks did not meet the storage capacity requirements due to retractable doors.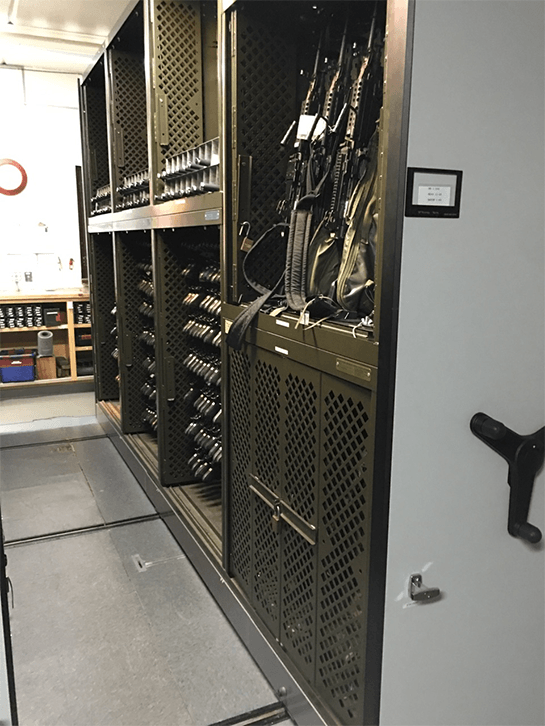 Scuff marks on the VCT show where the carriage was dragging due to an out of level track installation which caused major negative performance issues for this system.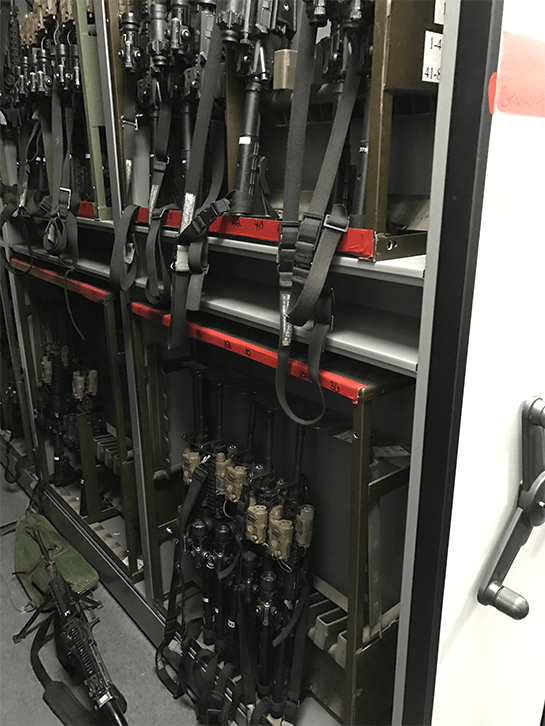 Due to the larger size of Space Saver Universal Weapon Racks, the military was forced to use M-12 Small Arms Racks to fill out their MTOE to store all weapons.
Replacing Competitors Weapon Racks
The replacement of legacy Space Saver weapon racks in arms rooms across the military includes both free-standing and mobile weapon rack systems.
For this project we utilized full height Combat Weapon Racks featuring reverse bi-fold doors on mobile carriages with two tiers of storage primarily for Security Forces duty M4s and M9s including full width adjustable storage shelves to store asps, OC spray and any detached optics or M203s. The balance of the weapon racks stored M16s, Shotguns, M240s, M249s, Tasers & ammo storage.
This specific system required through access with armorers walking through the system to the other side of the room. With this requirement we supplied a mechanical safety sweep in each aisle. The mechanical safety sweep is a safety mechanism that stops carriage movement when touched and effectively locks a carriage from being closed with someone inside.
With our fully slotted back panel, armorers can plug and play with individually adjustable barrel saddles storing an M16 next to an M4 without having to purchase additional support rails and with proper spacing for optics attached to weapons.