Weapon Racks Failed Physical Security Inspection and had to be replaced after base physical security inspectors deemed the competitive material handling weapon rack not secure.
The single worst thing that can happen to an armorer besides losing a weapon is having your weapon rack fail a physical security inspection. Failing a physical security inspection is exactly what happened.
As you can see from the pictures below, this competitor's material handling weapon rack lock rods broke off from inside the door and no longer adequately secured the weapons.
The military has rigid physical security requirements for the storage of small arms, including DOD 5100.76-M, which is the DoD level directive that applies to all services and is implemented by the Army in the AR 190-11, by the Navy in the OPNAVINST 5530.13C, and by the Marine Corps in the MCO 5530.14A.
We have seen these material handling cabinets masquerading as weapon racks for many years as we compete against the distributor. We have seen multiple locations where the material handling weapon racks fail in arms rooms and have to be replaced.
The unit was forced to purchase new weapon racks, which we were awarded and Combat Weapon Storage disposed of the failed weapon racks. The unit was able to salvage 1 storage cabinet and 1 material handling weapon rack for bulk storage that had not failed yet.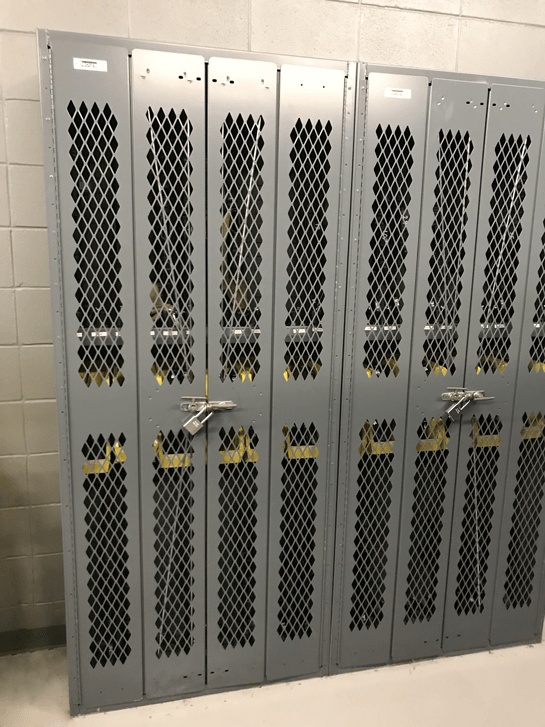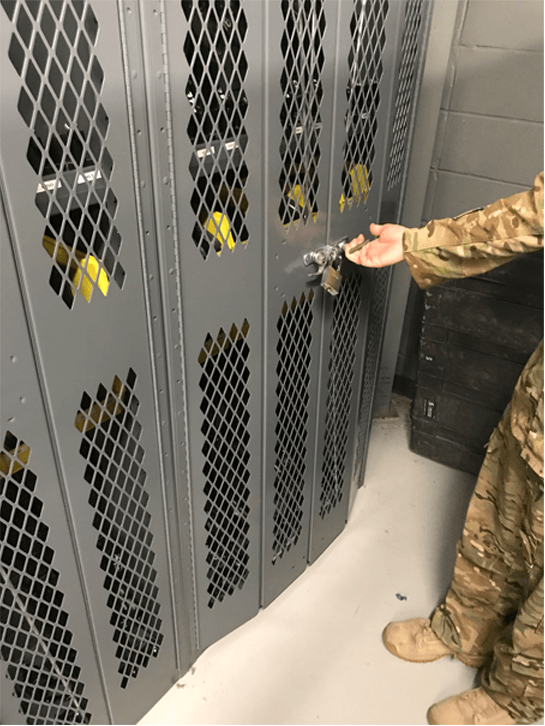 An Air Force unit was written up for failing physical security inspection of existing arms room weapon cabinets.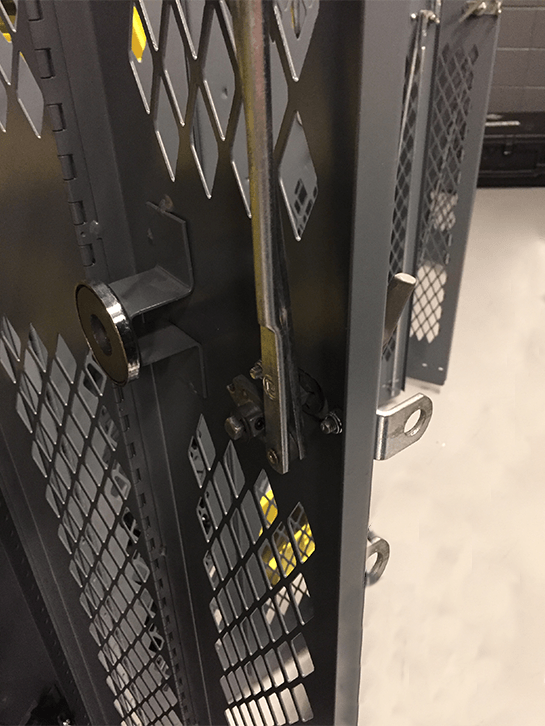 Lock rods broke off inside of the material handling weapon rack from every day wear and tear.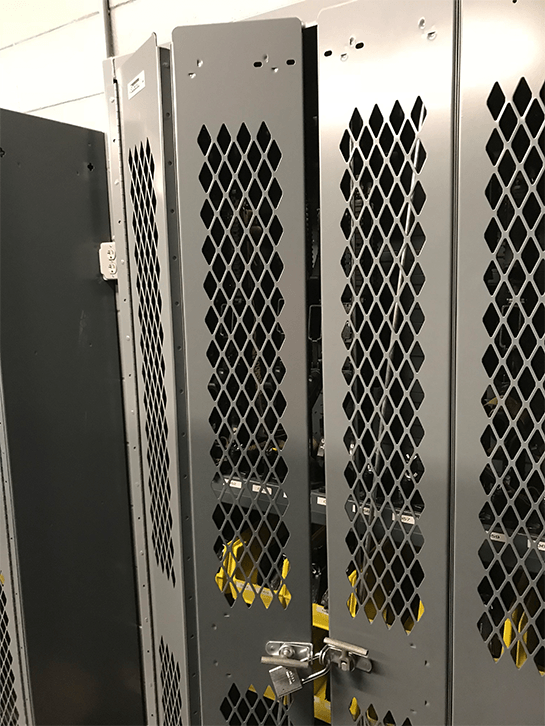 Even pad-locked, the doors of this material handling weapon rack were not fully secure with failed lock rods.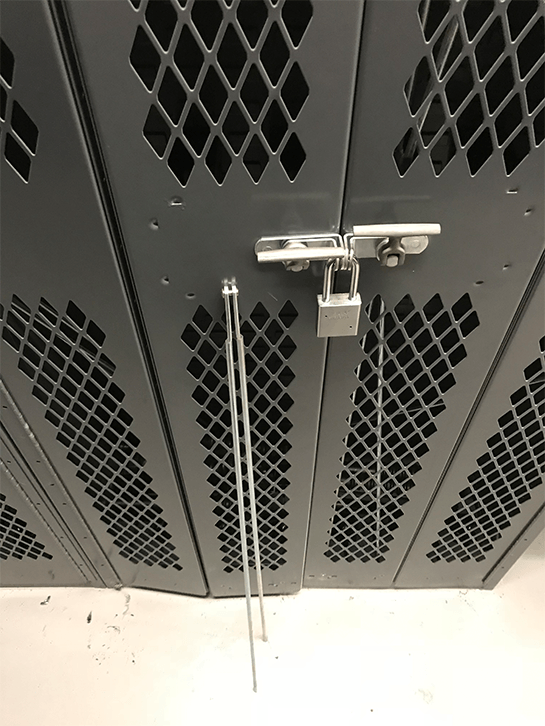 The lock rods bow and deflect against force and eventually snapped off. The habitual opening and closing of bi-fold weapon rack doors forces the doors to be opened and closed constantly so as to not block access aisles.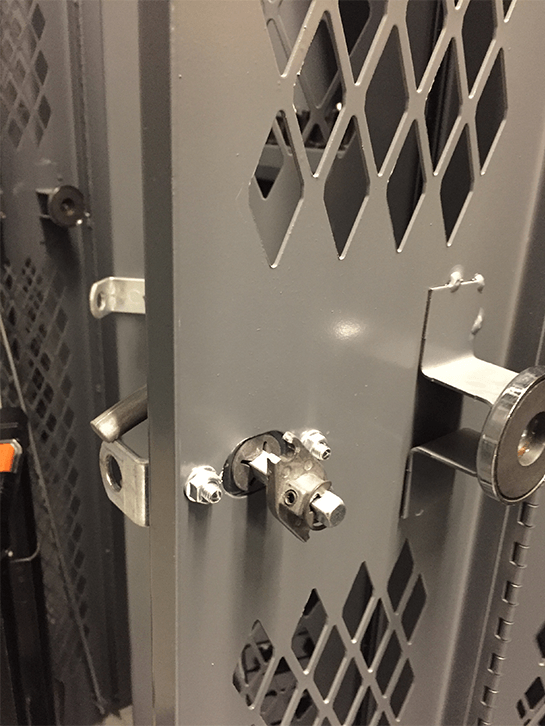 Here you can see complete failure of the material handling weapon rack lock rods on the door interior we received an award to replace.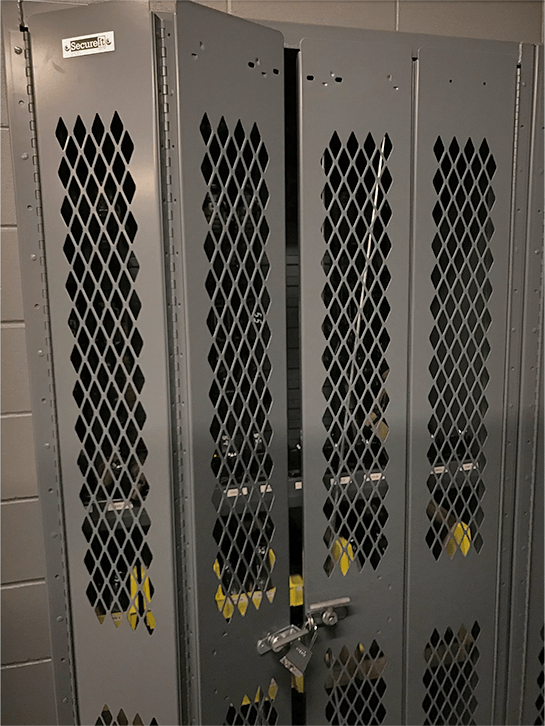 With interior lock rods missing from the material handling weapon cabinet, the bi-fold doors fail to secure weapons and gear.
Replacing Weapon Racks Failed Physical Security Inspection
An Air Force unit solicited a requirement for new weapon racks, shelving and workbenches in their armory with removal of the existing weapon racks to be performed by the awarded vendor. Combat Weapon Storage Systems (DBA Vital Valt) was awarded the contract under our GSA Schedule GS-07F-0661W to perform the replacement with new product.
Upon review of the existing armory, we learned that the unit had been written up for failing physical security of their arms racks due to broken lock rods on the existing racks in the arms room. As detailed above, these arms racks were not 100% secure with the lock rods compromised.
The goal of the unit was to salvage one of the still functioning material handling weapon racks and one storage cabinet with shelves for overflow materials.
The balance of the arms room was outfitted with CWR41 NSN 1095-01-620-5600 Small Arms Racks with butcher block tops, wide span industrial shelving for Pelican case storage  and workbenches with modular drawer and cabinet storage with butcher block tops for work space inside of the arms room.
The replacement of legacy weapon racks in arms rooms across the military and in law enforcement agencies includes older M12 small arms rack replacement and also newer style modular weapon cabinets that are no longer meeting mission objectives or can fail physical security inspection like in this case.