85 Inch High Weapon Racks provide multiple levels of weapon storage within one vertical column with one set of locking reverse bi-fold doors. With weapon racks able to store multiple tiers of weapons within the same weapon cabinet, 85″ H Weapon Racks reduce the number of doors and rack locations required to store all weapons and gear.
85″ H NSN Weapon Racks are typically setup to be fixed arms room racks although they are commonly paired with mobile aisle systems for mobile weapon rack systems.
Many units are still migrating from stackable weapon racks to full height weapon racks that can store two tiers of weapons inside of the same cabinet. 85″ H NSN Weapon Racks provide two tiers of rifle storage and can also mix and match shelves, pistol storage and other ancillary gear depending on the weapons being stored and the rack configuration.
The ability to mix and match machine guns, shelves and rifles in full height weapon racks allows armorers to maximize the storage density inside of their weapon racks again by reducing the number of weapon racks used to store weapons and gear in the arms room.
Below we have a breakdown of our allotment of 85″ H NSN Weapon Racks. All of these racks are also available via GSA Schedule with unlimited configuration possibilities. The NSN Weapon Racks are kitted cabinets that can be reconfigured for various weapon types using universal weapon holders and individually adjustable barrel saddles.
The ability to mix and match different weapon rack widths also best optimizes arms room floor space as armorers are not locked into one weapon rack width that will likely force additional weapon racks to store an entire MTOE. Combat Weapon Storage offers an assortment of 36″ W & 42″ W weapon racks as NSNs and under GSA Schedule.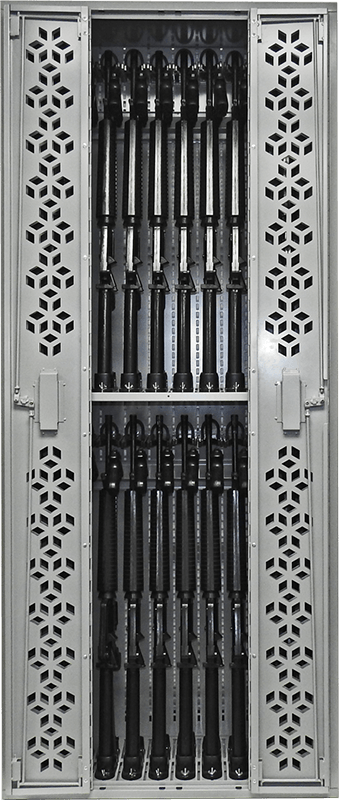 85" Weapon Rack Capacities
Rack Widths: 36″ & 42″
36″ W – 24 assorted rifles including, M16, M4, Shotgun, AK47, MK18, MP5
36″ W – 12 light machine guns including, M249 SAWs, M27 IAR, MK17
36″ W – 6 M240s, M110s, M107s
36″ W – 6 M240s, M249s & 12 M4/M9
36″ W – 4 heavy machine guns, M2 with 8 spare barrels, MK19s, Carl Gustavs, M252 Mortars
36″ W – 250-300 pistols on pistol pegs
42″ W – 28 assorted rifles including, M16, M4, Shotgun, AK47, MK18, MP5
42″ W – 14 light machine guns including, M249 SAWs, M27 IAR, MK17
42″ W – 7 M240s, M110s, M107s
42″ W – 7 M240s, M249s & 14 M4/M9
42″ W – 4 heavy machine guns + 1 additional light or medium machine gun, M2 with 8 spare barrels, MK19s, Carl Gustavs, M252 Mortars, 4 MK44 miniguns
42″ W – 250-300+ pistols on pistol pegs
List of 85″ H NSN Weapon Racks
NSN: CWR1 – 1095-01-612-1508
NSN: CWR2 – 1095-01-612-1502


NSN: CWR3 – 1095-01-612-1512
NSN: CWR4 – 1095-01-612-1518


NSN: CWR8 – 1095-01-612-1538
NSN: CWR9 – 1095-01-612-1543


NSN: CWR10 – 1095-01-612-1545
NSN: CWR11 – 1095-01-612-1928


NSN: CWR12 – 1095-01-612-1939
NSN: CWR13 – 1095-01-612-1947
NSN: CWR16 – 1095-01-612-2460
NSN: CWR17 – 1095-01-612-2466


NSN: CWR14 – 1095-01-612-1956
NSN: CWR15 – 1095-01-612-1962


NSN: CWR18 – 1095-01-612-2471
NSN: CWR19 – 1095-01-612-2481


NSN: CWR20 – 1095-01-612-2487
NSN: CWR21 – 1095-01-612-2504


NSN: CWR22 – 1095-01-612-2507
NSN: CWR23 – 1095-01-612-2511


NSN: CWR24 – 1095-01-612-2517
NSN: CWR25 – 1095-01-612-2519


NSN: CWR36 – 1095-01-620-5591
NSN: CWR37 – 1095-01-620-5764


NSN: CWR48 – 1095-01-620-5766

NSN: CWR49 – 1095-01-620-5594