In 2016 we were called out to Travis AFB to perform a site survey for an armory. The armory had an existing failing electric mobile carriage system that needed to be replaced as the service calls and parts for the system was costing the unit exorbitant amounts of money in maintenance upkeep. The existing Kardex Kompakt mobile storage system (pictured below) had a competitive retractable door weapon rack system installed on top of the carriages. The plans and drawing for this system are also posted below, showing the layout of the space.
The unit also had some stationary 48″ H stackable weapon racks (96″ H overall) they used for overflow or courtesy storage that were outside of the mobile weapon rack system.
As a then distributor of the Kompakt product line, we proposed keeping the existing wall to wall track and deck footprint in place and supplying new carriages with mid-tier height weapon racks on top.
The armory has a drop ceiling with sprinklers at 97.5″ H from the floor, we proposed a custom weapon rack height to ensure we met the 18″ fire sprinkler clearance requirement.
The statement of work from contracting went out for bid on GSA eBuy and was awarded to the lowest priced technically acceptable response. This vendor never set foot in the armory to perform a site survey and validate the height of their system against the space. They sold 84″ H weapon racks installed on top of mobile carriages with a total installed height of 92.5″ from the floor, much less than 18″ clear of the sprinklers. The Air Force unit was written up immediately by the Base Fire inspector for violation of the 18″ fire sprinkler clearance code.
Not only that, the system only had one 42″ W access aisle for almost 1000 total weapons with bi-fold doors that require constant opening and closing every single time carriages are moved. This created a nightmare workflow issue for the unit, restricting access to their weapons.
The awarded vendor then went and wrote up a fake weapon rack case study and posted system installation pictures on their web site. In fact, these pictures are still prominently featured on their web site, advertising their weapon racks on mobile carriages less than 18″ from the fire sprinklers.
The pictures also show an edited image making it appear as if the system was wall to wall or has more aisle space then what they sold.
Beyond just that, what they wrote was blatantly untrue, leading to why we are calling this a "Fake Weapon Rack Case Study." They stated the armory was dysfunctional as a result of old complex weapon racks and a non-US locking system.
The old existing stationary racks are still in use in the arms room with no issues, bearing the name of this vendor as they sold them before they started reselling a material handling parts cabinet from Durham Manufacturing also with their name on it. The stationary racks from Dasco are still in place as the high density mobile carriage system has now been replaced twice.
As a licensed State of California Contractor #714914, we are responsible for the systems we install to make sure they meet all state & local building codes.
The unit asked the vendor to modify the installed system with 72″ H weapon racks but were rebuffed. Due to the contracting office not including language about state and/or local statutes in the contract, they were unable to get the vendor to take responsibility for the system being installed with less than 18″ of clearance to the fire sprinklers. We highly recommend adding the federal, state and local statutes building codes clause in all contracts.
In 2018, Combat Weapon Storage was called back out to Travis AFB to review the installation and asked to quote a total replacement of the existing competitive weapon rack system.
Besides having height clearance issues, there were performance issues with only one access aisle for almost 1000 total weapons, difficult to roll carriages that dragged on the track and cumbersome bi-fold doors obstructing the aisles and requiring constant opening and closing to move carriages, slowing down the armory operation substantially.
The unit was funded and awarded a sole source contract to Combat Weapon Storage to replace the troubled system.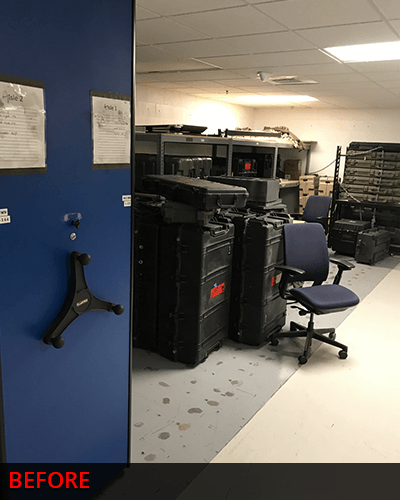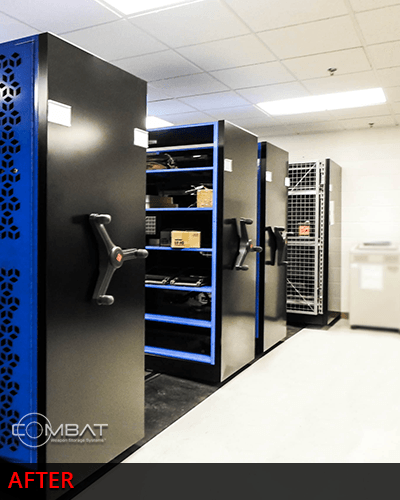 Photoshopped Images were used by the company on their website to portray a system that "triples your arm room capacity."
However, in reality the system was half the size with one access aisle.
Combat Weapon Storage replaced the existing SecureIt system with a wall to wall mobile storage system including storage shelving to keep gear off the floor, allowing for multiple access aisles for armorers to increase workflow.
While keyed locks in addition to standard pad-locks are not ideal for weapon racks, there was no issue with the existing keyed locks. Their blog post states keys and locks were broken, misrepresenting the situation in the fake weapon rack case study.
Weapon racks on mobile carriages installed less than 18″ from the fire sprinklers are a federal fire code violation and required this system to be replaced to be in compliance.
Integrity in sales is important to ensure end users receive a workable system. In this case the lowest price technically acceptable clause in the RFQ allowed a vendor to be awarded a contract that should not have been awarded.
This is also a good learning tool for armorer's to make sure they have detailed Statement's of Work submitted to their S4 and Resource Advisor when project's are going to contracting for RFQs.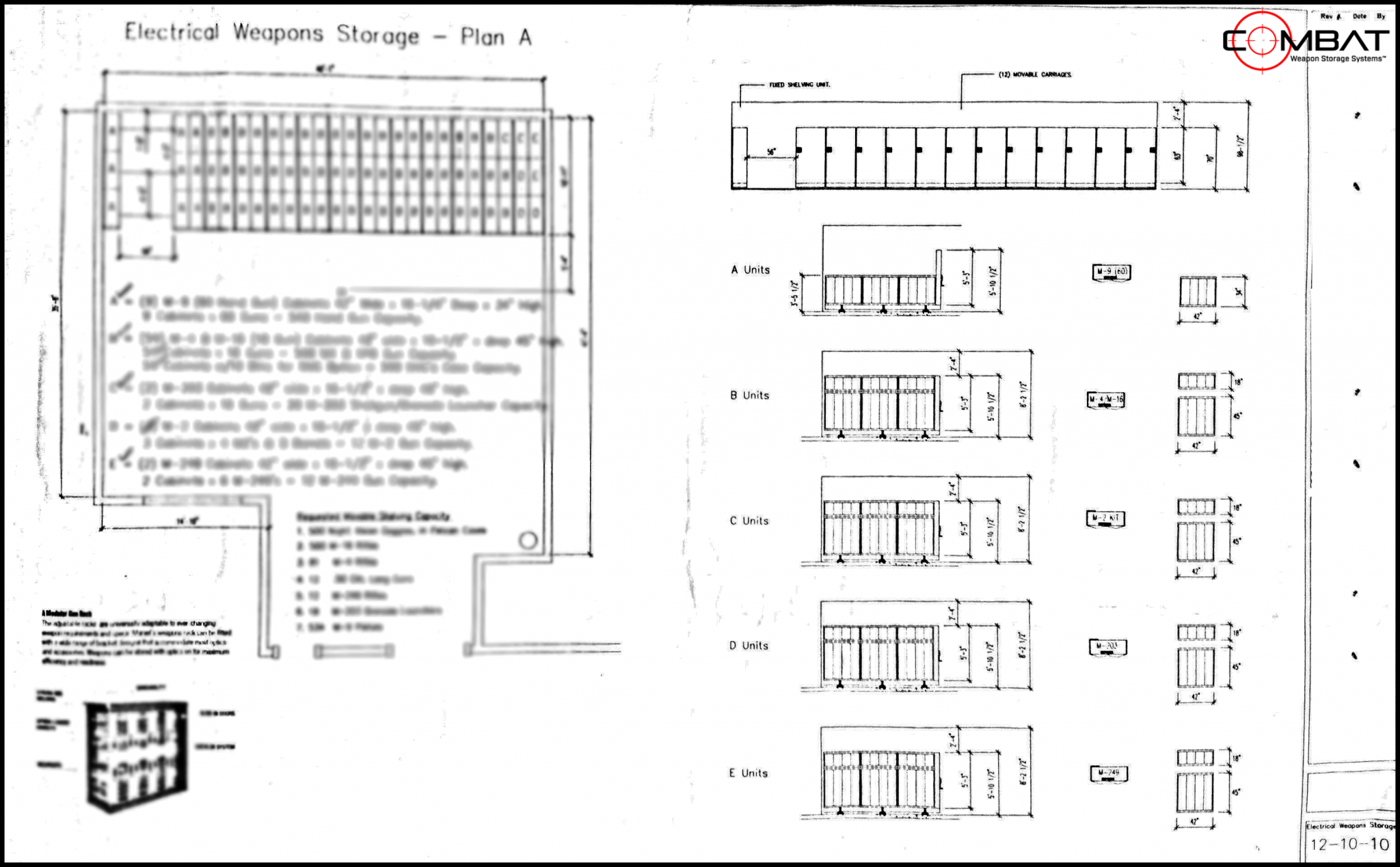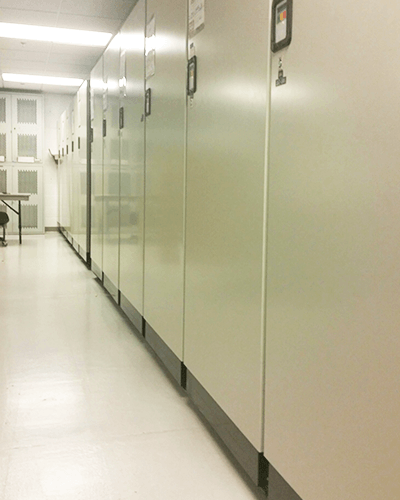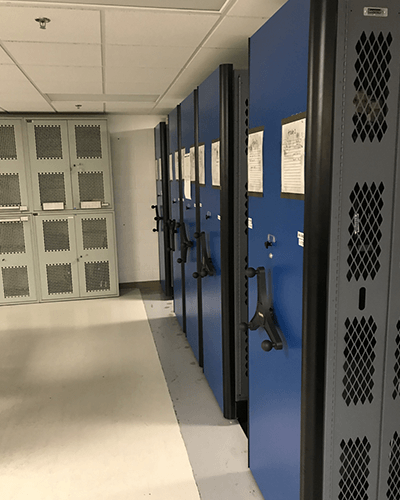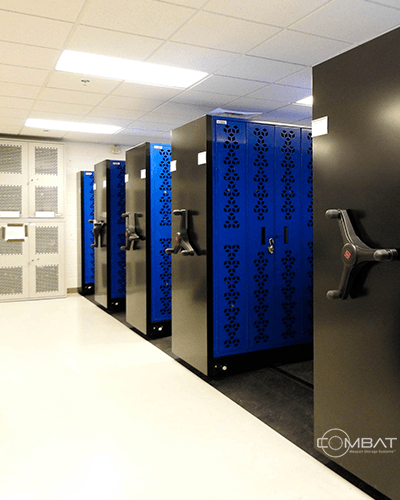 2011 Marvel Weapon Rack System
Fixed Dasco Weapon Racks during the 2000s & a Kompakt Electric Mobile Carriage system with Marvel weapon racks were installed in this armory in 2011
2016 SecureIt Weapon Rack System
84″ H SecureIt Weapon Racks were installed in 2016 on top of Equipto mobile carriages with less than 18″ of clearance to fire sprinklers.
2018 Combat Weapon Rack System
71″ H Combat Weapon Racks were installed on mobile carriages in 2018 to replace the SecureIt Weapon Rack system that violated fire code clearance. Note the Dasco racks are still in the armory & still in use.
Combat Weapon Storage Systems have been designed in company arms rooms,
ARMAG portable arms rooms, joint armories and special forces armories for all branches of military.

Contact Us Now For More Information.