Jail & Prison Storage Systems require efficient storage to secure and store weapons with rapid retrieval always a possibility.
Armories inside of Jails and Prisons are typically heavily underfunded and seen using storage for weapons made from wood or from old military surplus storage racks.
Weapons such as single launchers and 40mm multi-launchers as well as shotguns and rifles are commonly found in jail and prison facilities. Combat Weapon Storage offers adjustable weapon holders to secure the front and back of each of these weapon's buttstocks, ensuring proper storage. Individually adjustable barrel saddles properly support the correct height setting for each weapon length.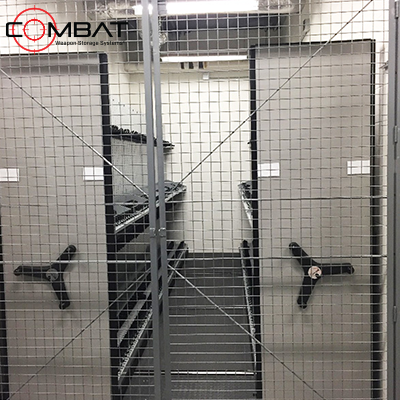 Organize your Jail & Prison Weapon Storage with fully modular weapon storage
Fixed Weapon Racks available at multiple heights, widths, depths and door styles.
Mobile Carriages maximize storage requirements when your room is not large enough to store weapons in free-standing product.
Weapon Shelving stores an array of Jail & Prison weaponry within secure storage areas in the facility.
Storage Shelving stores ammo, gear and other ancillary parts with or without locking doors.
Weapon Carts help stage and move weapons within the jail/prison.
Armory Workbenches give armorers space to work on weapons and gear.
Weapon Vises allow for weapons to be worked on anywhere in the station.
Weapon Tracking Software with bar code and RFID technology helps keep weapon inventories up to date.
Fully Modular weapon storage with common components
Site visit to survey your arms room if necessary
Design of arms room with Combat Weapon Storage
Weapon Storage delivery & on site assembly
Jails & Prisons store weapons in separate areas from inmates. These areas are typically outside of the jail compound but within a secure section.
Combat Weapon Storage has implemented both locking weapon racks with doors and our open weapon shelving in secure rooms for prison projects.
The level of security for storing weapons is a facility by facility decision. In our experience we have found that weapon shelving works best in these environments as they are highly restricted access spaces and allow for effective sight counts.
You can reach us by submitting our feedback form, emailing us at sales@weaponstorage.com or calling 800-699-1191 to request more information.