Replacing Legacy File Shelving Weapon Racks
File Shelving Weapon Racks are barrel and stock rest inserts installed in boltless L & T storage shelving.
Boltless L & T storage shelving is commonly used to store file folders, boxes, binders, gear and other items on plain and slotted steel shelves. We have seen a few instances where there are inserts for rifles being used in military arms rooms.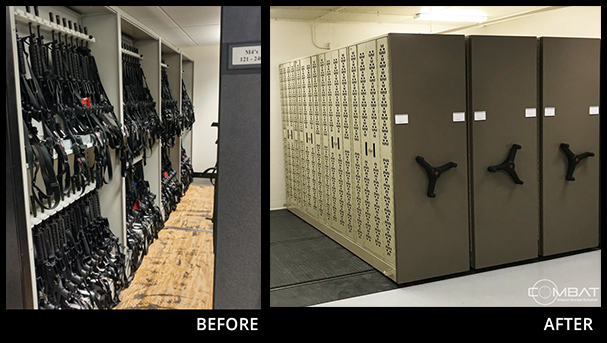 The keyhole slot design of the L & T shelving upright is also seen in the legacy Space Saver Weapon Racks, with punched full width support rails used to support barrels and pistols.
There are several issues to highlight when using L & T storage shelving with inserts for rifles.
First, the depth of the shelving leaves weapons with almost no angle, allowing weapons to fall out of the shelving when not supported with an additional piece.
The post to post barrel supports offer no independent adjustability for varying height weapons. This restriction or limitation only allows for like height weapons to be stored on each tier.
The notch outs for rifle buttstocks do not fully secure the buttstock, with weapons able to be rotated side to side within the footprint of the buttstock notch out. This becomes very important when optics are attached.
Most importantly, boltless L & T storage shelving is boltless. This is shelving that can be assembled and disassembled with no tools and nothing to secure the shelving. This setup fails to meet military physical security requirements for storage of small arms without being field modified during or after the installation process.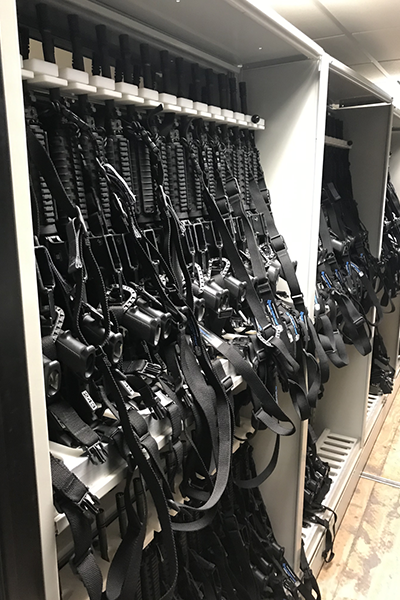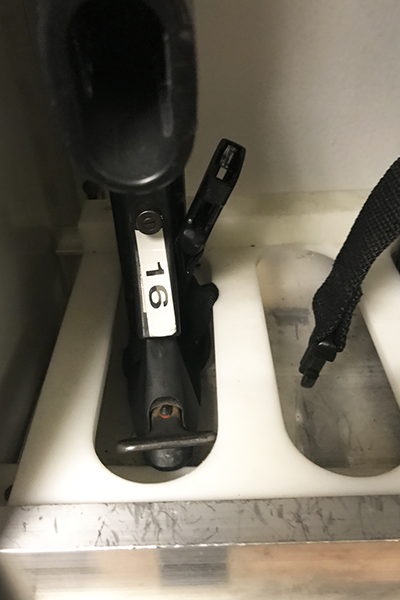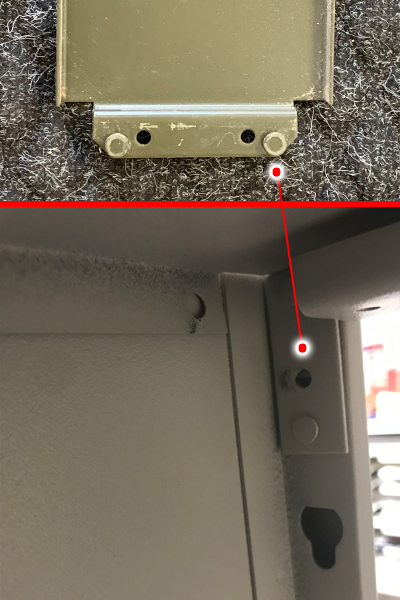 Rifles stored in storage shelving have zero modularity and leave slings & weapons turned askew.
Notched out slot for buttstock support allows for lateral movement of buttstock, causing collisions of optics on rifles and improper storage angles.
Barrel support rivet heads drop into upright keyhole slots of boltless shelving, failing to meet all military physical security requirements for storage of small arms.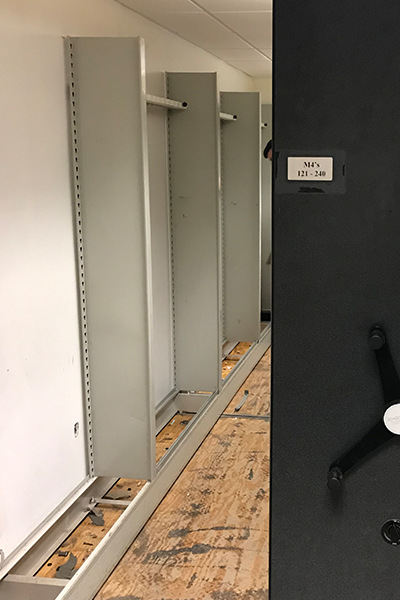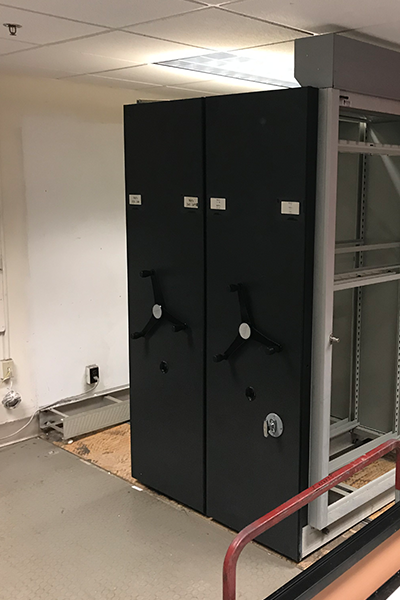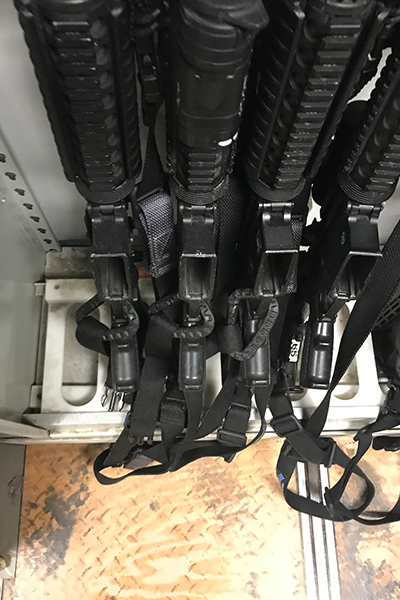 Boltless L & T Shelving with rifle inserts being disassembled & discarded. Small Arms Storage Racks have a weight capacity requirement of 500 lbs to meet physical security guidelines of AR 190-11, DOD 5100.76-M, OPNAVINST 5530.13 C and MCO 5530.14A.
Weapon slings and optics collide with limited buttstock support.
Replacing Legacy File Shelving Weapon Racks
Seismic anti-tip track installed leveled, fully grouted and anchored for high density weapon storage system.
High Density Weapon Storage System installation with Combat Weapon Racks for USAF Security Forces Squadron
High Density Weapon Storage systems with multiple access aisles allow multiple armorers to arm up at a time.
The replacement of legacy file shelving weapon racks in arms rooms across the military includes both free-standing and mobile weapon rack systems.
For this project we utilized full height Combat Weapon Racks featuring reverse bi-fold doors on mobile carriages with two tiers of storage primarily for Security Forces duty M4s and M9s including full width adjustable storage shelves to store asps, OC spray and any detached optics or M203s. The balance of the weapon racks stored M16s, Shotguns, M240s, M249s, Tasers & ammo storage.
This specific system required secure storage shelving in addition to the Combat Weapon Racks. Storage shelving with locking doors can secure individual sections of shelving to separate items and gear requiring more security within the armory.
With our fully slotted back panel, armorers can plug and play with individually adjustable barrel saddles storing different height weapons side by side.