Security Forces Arms Rooms can store thousands of weapons for Air Force law enforcement on each US Air Force installation.
Mobile Weapon Rack Systems are very typical inside of Security Forces armories as the quantity of weapons usually overwhelms the floor space required to store them. By placing weapon racks on mobile carriages, we reduce the amount of fixed aisles required for all weapon racks and are able to increase storage capacity.
Security Forces arms rooms feature many ancillary items in addition to just weapons; optics, breathing apparatuses, magazines, radios, ammunition, weapon cases, OC spray and more. These items can be stored in weapon racks with full width adjustable steel shelves or in storage shelving with or without doors.
Security Forces Weapon Storage
Security Forces Squadron's are active law enforcement environments with shift rotations coming and going throughout the day, requiring access to weapons inside of weapon racks daily. This requirement calls for a weapon storage system that can store all of the required weapons, courtesy stored weapons, privately owned weapons as well as all associated gear.
Having positive workflow throughout the armory with adequate aisle spacing and storage capacity allows armorers to get in and out of their weapon storage system without being slowed down by a lack of space to work within.
Designing an arms room with enough aisle space between weapon racks and storage capacity requires the full dimensions of your arms room and your MTOE (weapon density list) so we can determine how many weapon racks are required to store your weapons and put together a floor plan showing the weapon rack layout.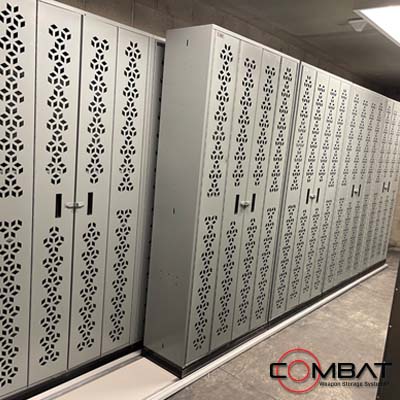 Mobile Weapon Rack Systems
Security Forces Mobile Weapon Racks allow arms rooms to store more weapons than the space is intended for using static, free standing weapon racks. By placing weapon racks on top of mobile carriages, aisles can be collapsed and opened with an ergonomic 3 spoke handle when access is required versus always being open.
This concept of rolling carriages includes structural track (seismic track in seismic zones) that is fully grouted to your concrete slab to stay level to the high spot the slab, structurally anchored and then has wood flooring between the tracks to eliminate tripping hazards. Wood flooring can be finished with non-skid rubber flooring or a finished wood flooring product. There is also an entry ramp into the carriage system. This ramp does not stick out beyond the front of the carriages.
Placing weapon racks on mobile carriages adds roughly 6-7 inches of overall height to the weapon racks. As all arms rooms are unique, this may force you into various or shorter height weapon racks to maintain the 18″ fire sprinkler code.
Not every arms room can accommodate full height 85″ H weapon racks as free standing racks or even installed on top of mobile carriages without violating the 18″ fire sprinkler requirement. This is why we have a variety of 76″ H weapon racks available as NSN weapon racks.
We manufacture multiple standard and custom height weapon racks to stay under the fire code requirement when implementing mobile weapon rack systems.
Combat Weapon Racks are easiest to procure through the Federal Supply System, GCSS-Army as a Class IX funds. With 50 approved National Stock Numbers, Combat Weapon Storage Combat Weapon Racks has an immediate answer to storage and security in arms rooms. NSN Weapon Racks from Combat Weapon Storage Systems can be loaded without having to be field certified by a physical security officer. The weapon racks must be bolted to the floor, wall or side to side with adjacent racks to meet the 500 lb requirement.
Combat Weapon Storage Systems are ISO 9001:2008, ISO 14001 & OHSAS 18001 manufactured, offering the highest quality manufacturing standards in the industry.
Both our 9 & 10 point locking system weapon racks are TACOM approved for use in armories and exceed AR 190-11, MCO 5530.14A, OPNAVINST 5530.13C & DOD 5100.76.
The weapon rack kits linked to this page will have the appropriate NSNs provided as well as a description and the size of the weapon rack provided and storage capacity. There are physical PDF cut sheets at the bottom of each specific rack page that can be downloaded to help assess your requirement v the weapons and gear to be stored.
Rifles, light and medium machine guns are all stored with common components that can be adjusted or reconfigured based on your MTOE.
Heavy weapons are configured with heavy weapon bases and wider barrel saddles to properly support the barrels of those weapons.
NSN Weapon Racks can be purchased via GCSS-Army or other Defense Supply channels.