Weapon Rack Fire Sprinkler Violation
Fire code requires 18″ of clearance from the top of storage to fire sprinklers. This is a standard code with the only variance allowed against the wall without a sprinkler directly above storage. As a licensed contractor in the State of California, Vital Valt (CA Contractor License #: 701914) is required to meet all building codes.
We have routinely seen competitive weapon rack installations, both fixed weapon racks and those installed on mobile carriage systems that violate the 18″ fire code requirement. Fire sprinkler clearance is a code that will cause end users to get written up until the removal of the fire sprinkler obstruction.
In 2016, the Air Force awarded contract FA4427-16-F-0035 to SecureIt Tactical for $58,802 at Travis AFB for a mobile weapon rack system. Pictures of this weapon rack system are featured prominently on their Web site marketing material with a fabricated case study to go along with  it.
The result of this contract awarded at the lowest price "technically" acceptable cost the US Government an additional $130,000 as Combat Weapon Storage was awarded a sole source contract to remove and replace the system in 2018.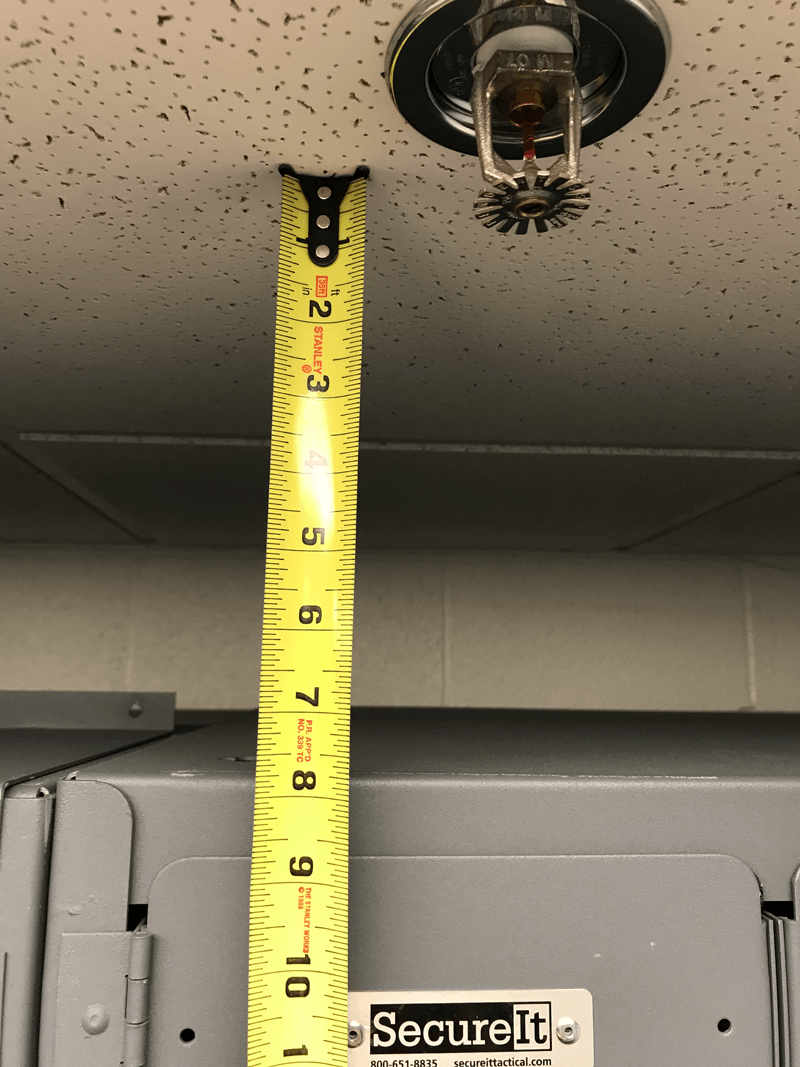 This competitive system was replaced less than 2 years after awarded to SecureIt Tactical as there was performance and installation issues with the track installed out of level and as previously noted the system violated fire code clearance.
Pictured below are installation pictures showing how close the top of the weapon racks are to the fire sprinklers. The Air Force unit was written up immediately by the Base Fire inspector, causing great grief for the unit and no fix from the vendor to remedy the situation.
This is the same vendor that has had Failed Physical Security Inspections on their weapon rack systems due to lock rods breaking from excessive opening and closing of bi-fold doors.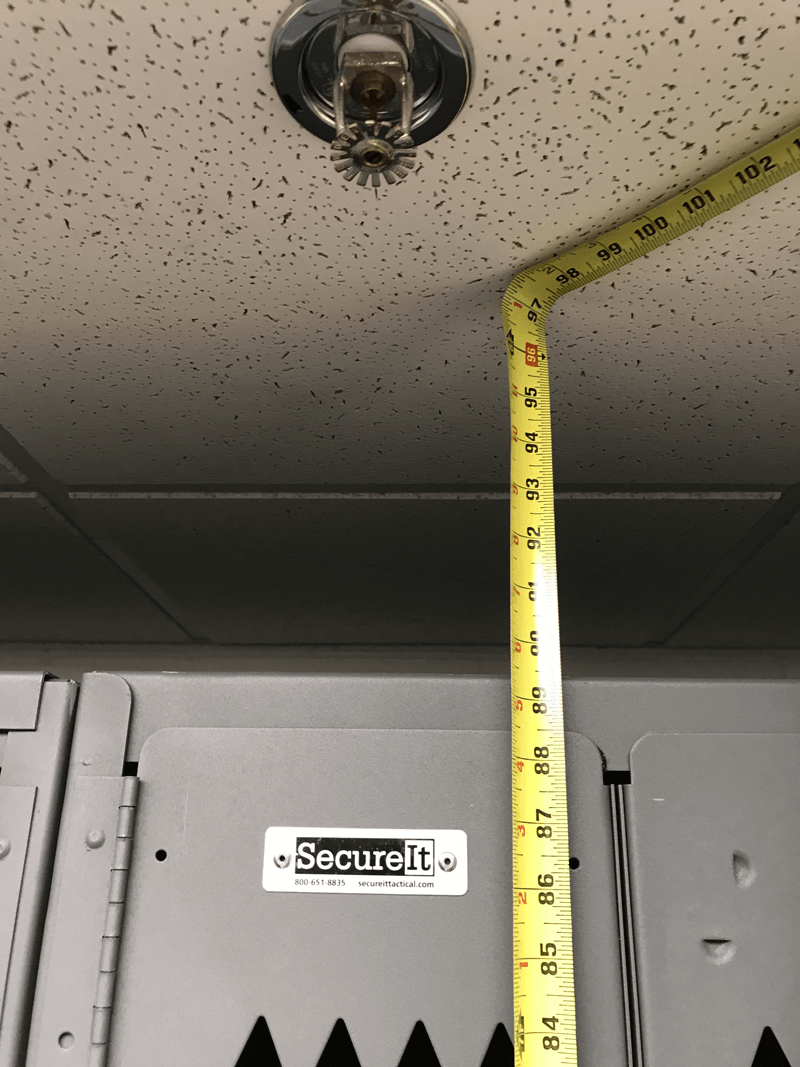 Weapon Rack Fire Sprinkler Violation, shows weapon racks installed on mobile carriages less then 7″ from the fire sprinklers.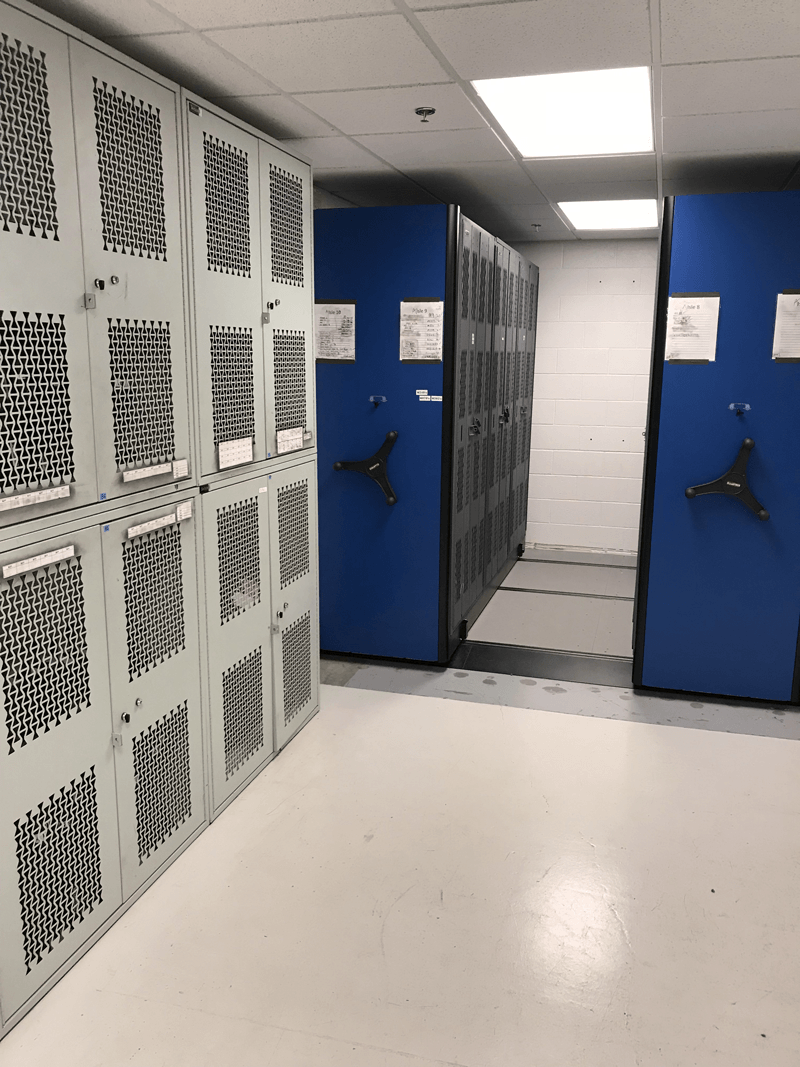 With less than 18″ of clearance to the fire sprinklers, this high density weapon storage system was in violation of fire code and eventually had to be replaced.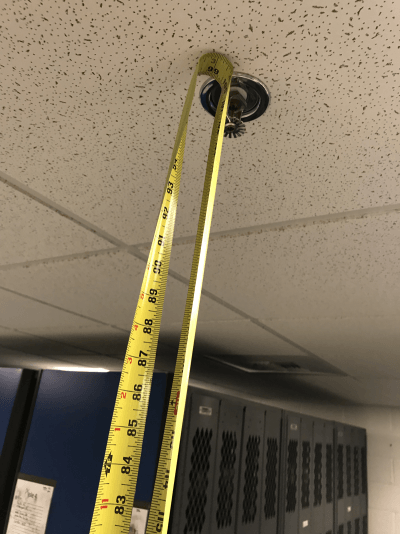 Mobile Storage Systems require 18″ of clearance from fire sprinklers, the system above got the Air Force unit written up until they replaced the system.
Weapon Racks are extremely important, having to meet US military physical security requirements but the site visits to confirm armory dimensions as well as having a licensed contractor who understands and follows the building codes is just as important.
It is imperative that contractor's know building codes and implement them in the weapon storage system design so your unit is not written up by Base Fire or Base Safety. Again as a licensed contractor, Combat Weapon Storage Systems understands and follows the requirements for designing and implementing all types of storage systems both on and off military bases.
Armorers should demand site visits from vendors to ensure storage systems fit the space, meet the building codes and properly secures their weapons.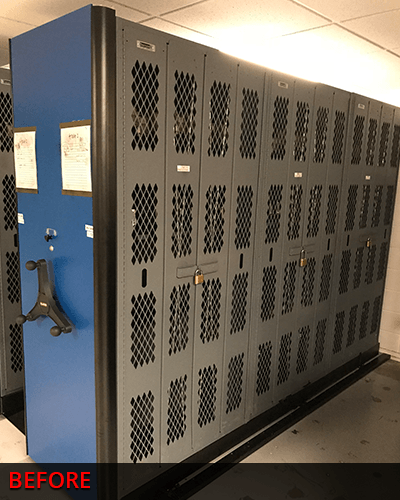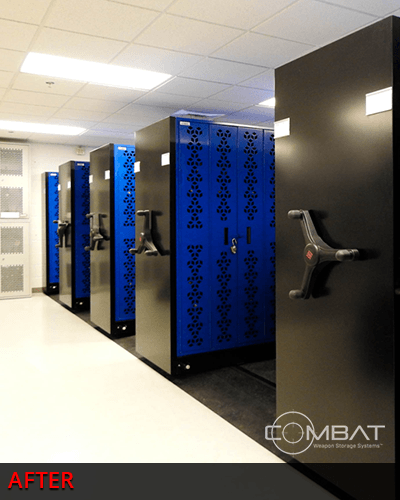 Replacing SecureIt Tactical Weapon Rack System
Combat Weapon Storage Systems have been designed in company arms rooms,
ARMAG portable arms rooms, joint armories and special forces armories for all branches of military.

Contact Us Now For More Information.