Forensic Firearm Labs, like the one pictured to your right, require fully modular weapon storage as they store a vast library of weapons.
The ability to mix and match varying height and style weapons side by side allows forensic scientists to store their inventory with universal components that adjust to the weapon, controlling the front and back of the weapon buttstock and preventing lateral movement while being stored.
Vault space and quantity of weapons being stored determines whether forensic firearm storage can be accomplished with fixed weapon shelving or if mobile carriages are needed.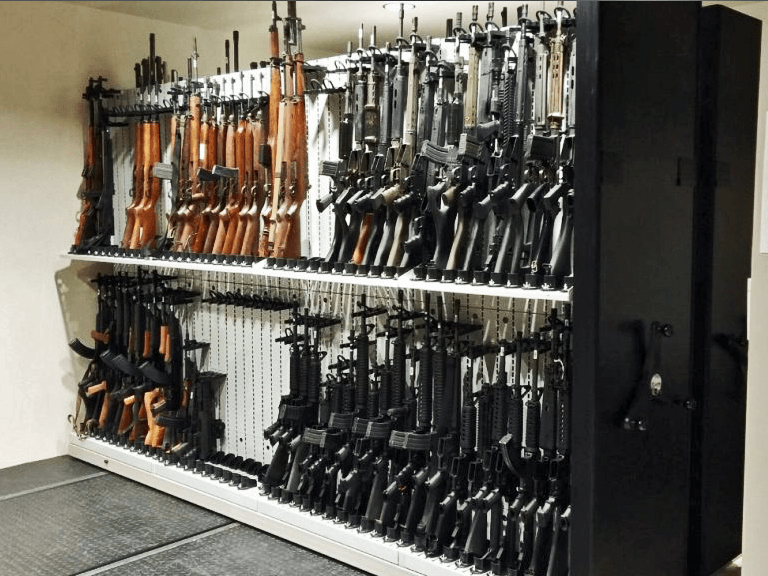 Fully modular universal weapon storage components.
Open Weapon Shelving allows for weapons of various heights and widths to be stored together.
Mobile Carriages maximize storage requirements when weapons will not fit in your lab with fixed storage.
Storage Shelving stores ancillary gear, ammo and other parts with or without locking doors.
Weapon Carts help transport and stage weapons within the lab.
Armory Workbenches give forensic scientists work space to work on weapons.
Weapon Vises allow forensic scientists to work on weapons anywhere in the lab.
Weapon Tracking Software with bar code and RFID technology helps keep weapon libraries up to date.
Fully modular weapon storage with common components
Site Visit to survey your forensic firearm laboratory
Design of forensic firearm laboratory with Combat Weapon Storage
Weapon Storage delivery & on-site assembly
Forensic Firearm Storage in firearm laboratories will highlight why a fully modular weapon storage system is necessary. Storing hundreds or thousands of weapons with varying lengths and styles requires on the fly modularity.
The wide array of rifles, carbines, pistols & revolvers absolutely necessitates a modular system capable of adjusting to what is being stored.
Combat Weapon Storage features fully modular components with weapon holders that secure the front and back of each rifle buttstock as well as prevents lateral movement of the weapon while being stored. Barrel saddles are individually adjustable with 1″ spacing on our fully slotted back panel and retainer cords to secure barrels, preventing a weapon from inadvertently falling out of the system.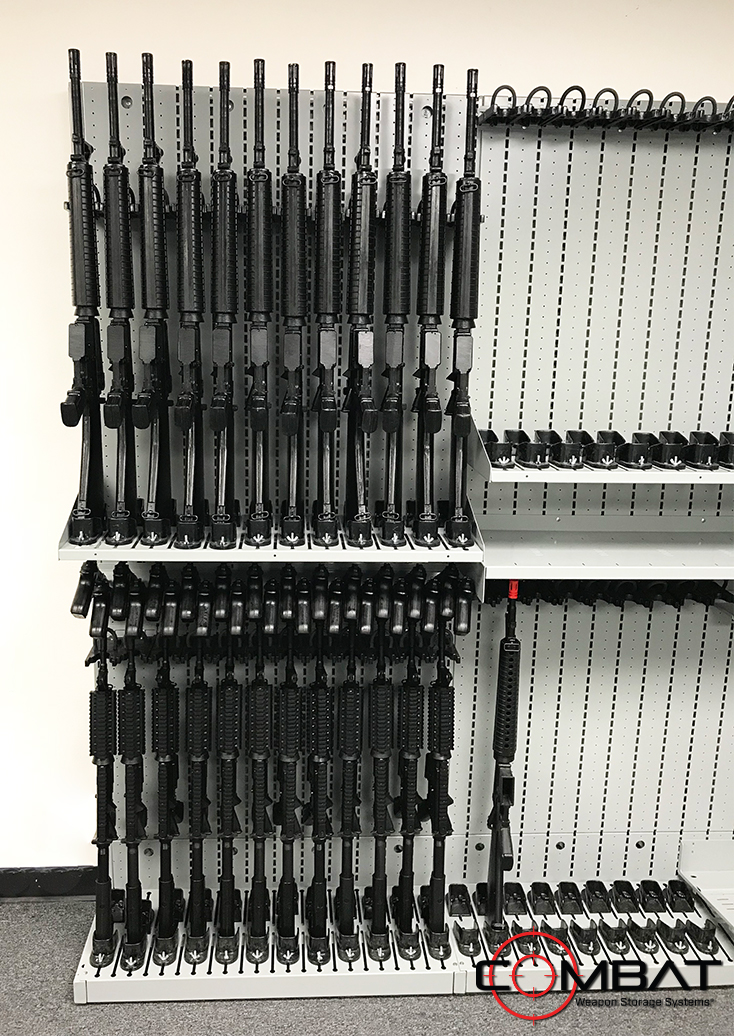 Forensic Firearm Storage Mobile Shelving
The size of your firearm library and the quantity of weapons in your collection will dictate whether weapons can be stored with fixed, free-standing weapon shelving or need to be installed on mobile carriages.
In most forensic firearm laboratories the quantity of weapons easily reaches hundreds, if not thousands of firearms. These firearms will be various styles & lengths, requiring a fully modular weapon storage system.
Combat Weapon Shelving is available in single sided and double sided configurations with various lengths and heights to fill your storage space precisely
The concept for Mobile Shelving is to increase storage capacity by reducing the quantity of fixed aisles. This is accomplished by installing tracks across the span of your space, installing moveable carriages with weapon shelving mounted to the top.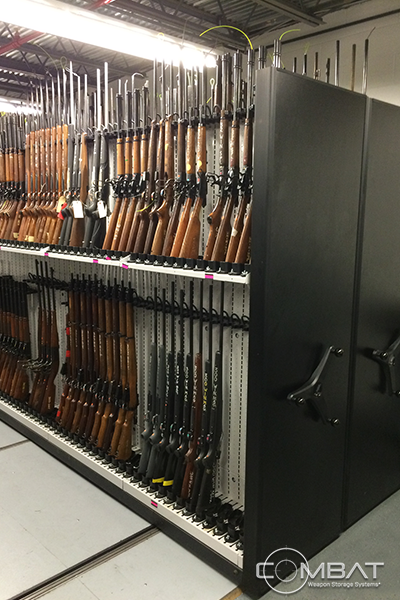 You can reach us by submitting our feedback form, emailing us at sales@weaponstorage.com or calling 800-699-1191 to request more information.