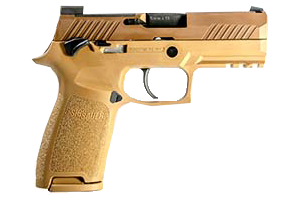 M18 Weapon Storage Rack – The Sig Sauer P320 pistol won the United States Military Modular Handgun System competition and has been designated the M18 pistol.
The M17 (full size) pistol and the M18 (compact) pistol are slated to start replacing Beretta M9s in DOD arms rooms in November of 2017.
Existing Combat Weapon Racks with pistol pegs can store the M18 (P320) pistol with no changes necessary to the rack or the pistol pegs.
Our fully welded M18 Weapon Storage Rack cabinets meet & exceed  US DOD physical security regulations. This includes AR 190-11, OPNAVINST 5530.13C, DOD 5100.76-M & MCO 5530.14A for arms storage requirements and storage of small arms. They are also TACOM certified with assigned National Stock Numbers and on our GSA Schedule GS-07F-0661W.
Combat Weapon Storage Systems are ISO 9001:2008, ISO 14001 & OHSAS 18001 manufactured, offering the highest quality manufacturing standards in the industry.
Combat Weapon Storage Systems are available as fixed weapon racks with 50 approved National Stock Numbers and can also be integrated as mobile carriage systems for armories. Our background as storage system experts allow our system designers to implement the most efficient, space effective armory design available.
All products and services are available on GSA Schedule (GS-07F-0661W) to the US Federal Government and to state and local agencies.
M18 Weapon Storage Racks configured to store multiple tiers of M18 pistols
M18 Weapon Storage Rack pistol pegs store other pistol types, M9, P-226, .40 cal, etc
M18 Weapon Storage Racks can store pistols on pistol pegs and rifles in the same rack
M18 Weapon Storage Racks available in multiple widths and heights
M18s over time will replace the Beretta M9 in US Armed Forces arms rooms. As units migrate to the new modular handgun system, there will be questions about how best to store M18s.
M18s can be stored by themselves, filling racks or mixed with rifles if armorers wish to save floor space by not have dedicated M18 racks. Our 24-24 and 28-28 Rifle Pistol Weapon Racks store rifles and pistols mixed together with the pistols not requiring dedicated rack space allowing for shelves and other weapons to be stored in the racks.
M18s can be stored in single tier stackable weapon racks or also in a mid-tier height weapon rack. M18s can also be stored in full height weapon racks with hundreds of pistols capable of being stored in dedicated space. M18s can also be stored mixed with rifles and heavy weapons.
Below is a list of rack configurations awarded National Stock Numbers storing M18s
| | |
| --- | --- |
| M18 Weapon Storage Rack National Stock Number | |
| 1095-01-612-1508 (Download Specification) | CWR1 – Stores 24 Rifles & 24 M17s. 85″ H x 36″ W x 15″ D. 9 point locking system |
| 1095-01-612-1502 (Download Specification) | CWR2 – Stores 24 Rifles & 24 M17s. 85″ H x 36″ W x 15″ D. 10 point locking system |
| 1095-01-612-1512 (Download Specifications) | CWR3 – Stores 28 Rifles & 28 M17s. 85″ H x 42″ W x 15″ D. 9 point locking system |
| 1095-01-612-1518 (Download Specifications) | CWR4 – Stores 28 Rifles & 28 M17s. 85″ H x 42″ W x 15″ D. 10 point locking system |
| 1095-01-612-1533 (Download Specifications) | CWR7 – Stores 12 Rifles & 12 M17s. 44″ H x 36″ W x 15″ D on caster base with transport handles. 9 point locking system |
| 1095-01-612-2471 (Download Specifications) | CWR18 – Stores 256 M17s on straight line pistol pegs. 85″ H x 36″ W x 15″ D. 9 point locking system |
| 1095-01-612-2481 (Download Specifications) | CWR19 – Stores 256 M17s on straight line pistol pegs. 85″ H x 36″ W x 15″ D. 10 point locking system |
| 1095-01-612-2507 (Download Specifications) | CWR22 – Stores 6 SOPMOD M4s, 12 M17s & 6 Crew Serves (M240s/M249s/MK13s). 85″ H x 36″ W x 15″ D. 9 point locking system. This is an ODA configuration. |
| 1095-01-612-2511 (Download Specifications) | CWR23 – Stores 6 SOPMOD M4s, 12 M17s & 6 Crew Serves (M240s/M249s/MK13s). 85″ H x 36″ W x 15″ D. 10 point locking system. This is an ODA configuration. |
| 1095-01-612-2517 (Download Specifications) | CWR24 – Stores 12 SOPMOD M4s & 24 M17s. Includes 2 full width adjustable shelves for optics & 4 narrow depth shelves for additional storage. 85″ H x 36″ W x 15″ D. 9 point locking system |
| 1095-01-612-2519 (Download Specifications) | CWR25 – Stores 12 SOPMOD M4s & 24 M17s. Includes 2 full width adjustable shelves for optics & 4 narrow depth shelves for additional storage. 85″ H x 36″ W x 15″ D. 10 point locking system |
| 1095-01-620-5586 (Download Specifications) | CWR32 – Stores 264 Pistols on high density pistol pegs. 76″ H x 36″ W x 15″ D. 9 point locking system |
| 1095-01-620-5313 (Download Specifications) | CWR33 – Stores 308 Pistols on high density pistol pegs. 76″ H x 42″ W x 15″ D 9 point locking system |
| 1095-01-620-5610 (Download Specifications) | CWR44 – Stores 144 Pistols on high density pistol pegs. 44″ H x 36″ W x 15″ D 9 point locking system |
| 1095-01-620-5598 (Download Specifications) | CWR45 – Stores 168 Pistols on high density pistol pegs. 44″ H x 36″ W x 15″ D 9 point locking system |