Another issue with the weapon racks is the use of a support rail with rivet heads that limits the armorers ability to have a fully slotted back panel. The support rail only accepts barrel saddles at one height setting, requiring the armorer to purchase additional support rails when multiple weapon types are stored within the same weapon cabinet.
This meant as weapons have changed over the course of time since the unit was forced to field these weapon racks, their weapons haven't been properly supported.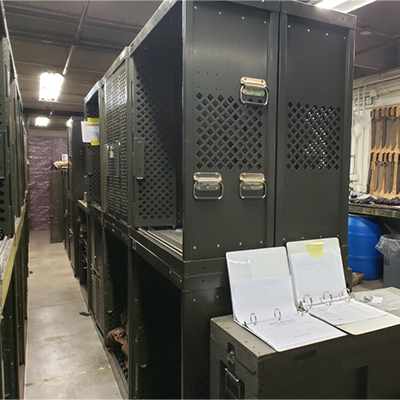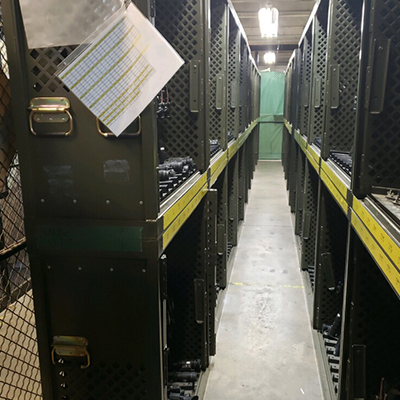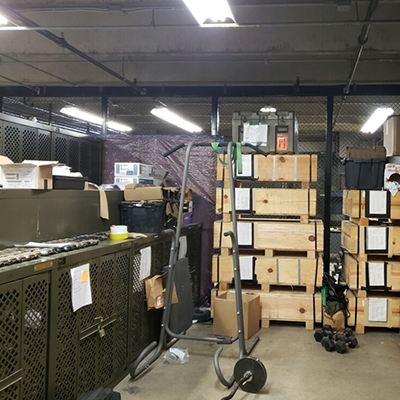 Replacing Space Saver Weapon Racks with taller Combat Weapon Racks allowed for two tiers of weapons per rack, freeing up additional rack space for more gear.
Aisle spacing between Space Saver weapon racks included a less than legal access aisle.
Retractable weapon rack doors store less weapons in more floor space.
Marine Corps Weapon Racks
Replacing legacy space saver weapon racks in arms rooms across the Marine Corps includes both free-standing and mobile weapon rack systems.
For this project we utilized full height Combat Weapon Racks featuring reverse bi-fold doors on mobile carriages with two tiers of storage primarily for M16s, M4s, and a mixture of heavy weapons including M249s, M240s, M2s, MK19s, and full width adjustable storage shelves to store bayonets and any detached optics or M203s. The rest of the armory was configured with wall mountable weapon panels to store weapon cleaning products and small parts, secure storage shelving for tripods, weapon cases and weapon mounts and a mobile weapon cart to transport weapons.
As high density mobile storage system experts, Combat Weapon Storage was able to design a system that achieved weapon storage density with future growth built into the layout and enough space to give the Marines four separate access aisles into the carriages. This allows the Marine Corps armorers to have access to up to 896 rifles (224 rifles per aisle) where they previously could only get one Marine into an access aisle due to 21″ W aisles between weapon racks.
The existing space saver weapon rack system stored 10 weapons across a 42″ W weapon rack. Replacing them with 42″ W Combat Weapon Racks  allowed for 14 weapons across the same footprint, increasing the storage capacity per rack and with the ability to double tier weapons in the same cabinet instead of stacking two cabinets on top of one another and managing two sets of doors.
We were able to increase storage capacity inside of the armory including multiple workbenches, secure storage shelving and full height weapon racks on a high density mobile weapon rack system number of carriages in the system in addition to increasing storage capacity giving the armory a much larger and legal access aisle to store and retrieve weapons within their high density mobile weapon rack system.
NVG Storage using full width adjustable steel shelves allow for an unobstructed storage capacity across the shelf with dividers available for shelves as needed.